Who Are We?
Working in conjunction with various police forces PNK9's security mission is to reduce crime, theft & vandalism.
PNK9 security teams are significantly more effective than multiple static guards both in terms of effectiveness & efficiency. Deterrence & visibility are immediate once a PNK9 security team is deployed The results of these deployments are quantifiable & our history & reputation of achieving these results are what have made us who we are, the absolute leader in K-9 security.
All canine units (both GP/Search dogs) & their expert handlers are trained to NASDU standards & strictly adhere to British Standards.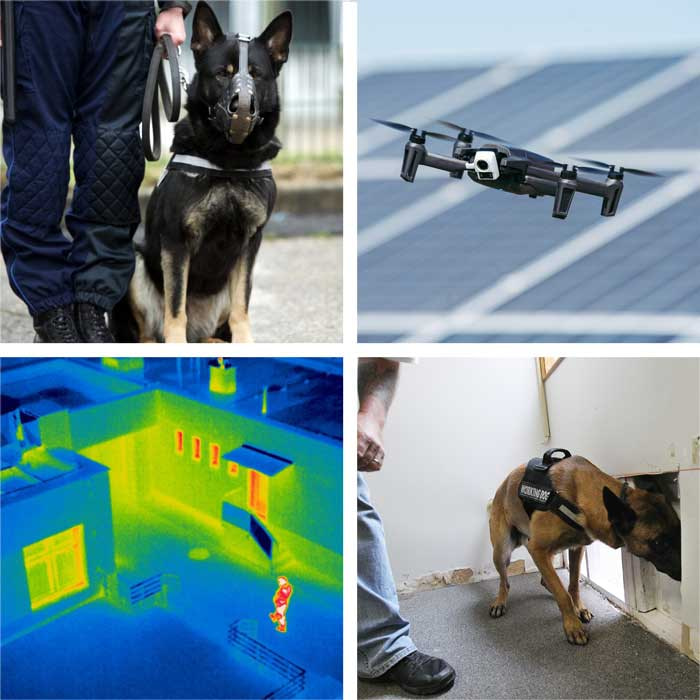 The capabilities are near limitless and PNK9 is excited to present these options to new and continuing clients.
PNK9 Security is consistently growing and evolving to combat new threats. This includes revising and reworking previous standard operating procedures and the inclusion of new technology.
We use the latest technologies in our patrols to secure our clients with real-time reporting, surveillance, and cost-cutting measures. For example, we are using thermal drones to conduct site surveillance with a K-9 Patrol or Detection team is the future and we are proud to be on the cutting-edge of the industry.

GENERAL PURPOSE SECURITY
Expert K9 handlers for your site. Our handlers are an extremely effective visual deterrent.

SEARCH DOGS
Our dogs are trained to detect the scent of various drugs such as cannabis, cocaine and other narcotics